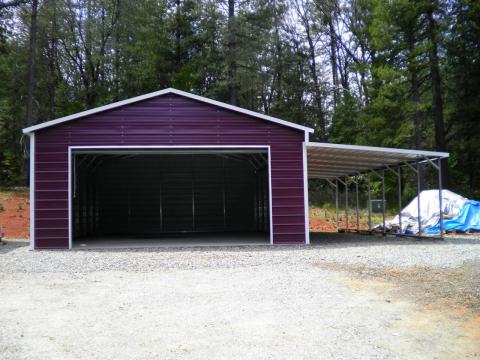 Are you planning to replace your old garage unit with the latest custom build metal garages? This is really a great idea. Earlier, people were least aware of possible garage door designs and they often used to follow the idea of service providers. But today people are more curious about following the latest trends and they collect and look for information online to choose the best. Adding a custom garage is a good way to provide great value to your property. Today we are going to talk about custom built metal garages as they are gaining more and more popularity in the market. There are so many benefits of installing a garage unit for your cars, boats, trucks or SUV.
It will help you to save money
Everyone loves to save money. That is why professionals recommend installing custom built metal garages for your home or workplace. Indeed, these specially designed metal units are less costly as compared to traditional wooden garages. Also, if we talk about the maintenance part then you will have to invest more for maintaining the wood work whereas the latest metal building units can be maintained with simple do it yourself procedures.
Unlimited options
Many metal garage constructions are gaining more popularity these days and the major reason behind it is their easy customization options and wide flexibility. These systems can be easily installed on your level land on concrete, asphault, dirt or gravel and the best part is that you can even install them next to existing structures. You can easily find these units in a wide range of designs, sizes, and styles as well as the manufacturers offer easy customization options to meet requirements of your existing structures. There is no doubt that you can become more creative with with the installation task when you have the option of putting in a custom metal garage unit for yourself.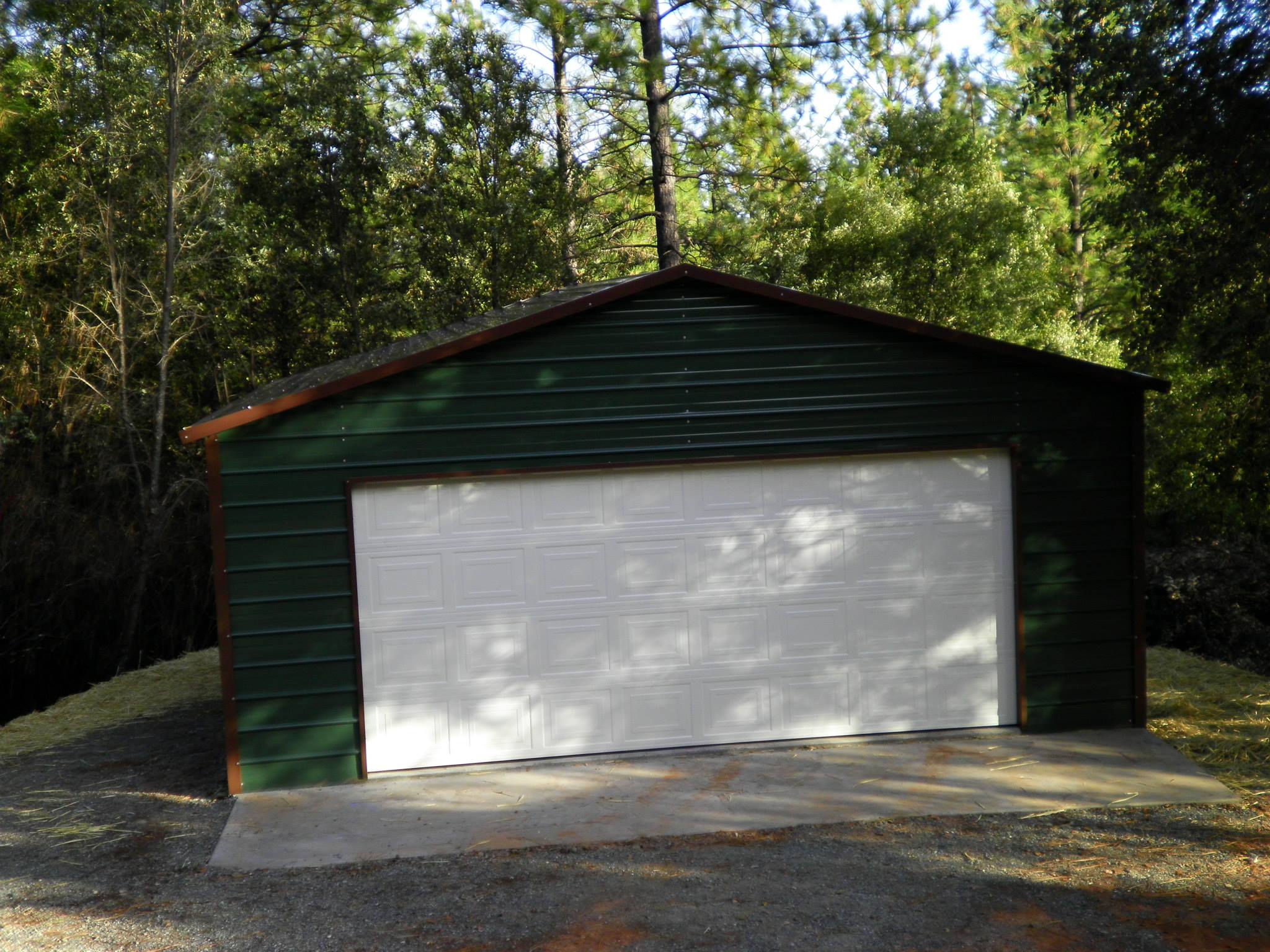 Evergreen color metal garage with Earth trim. See all colors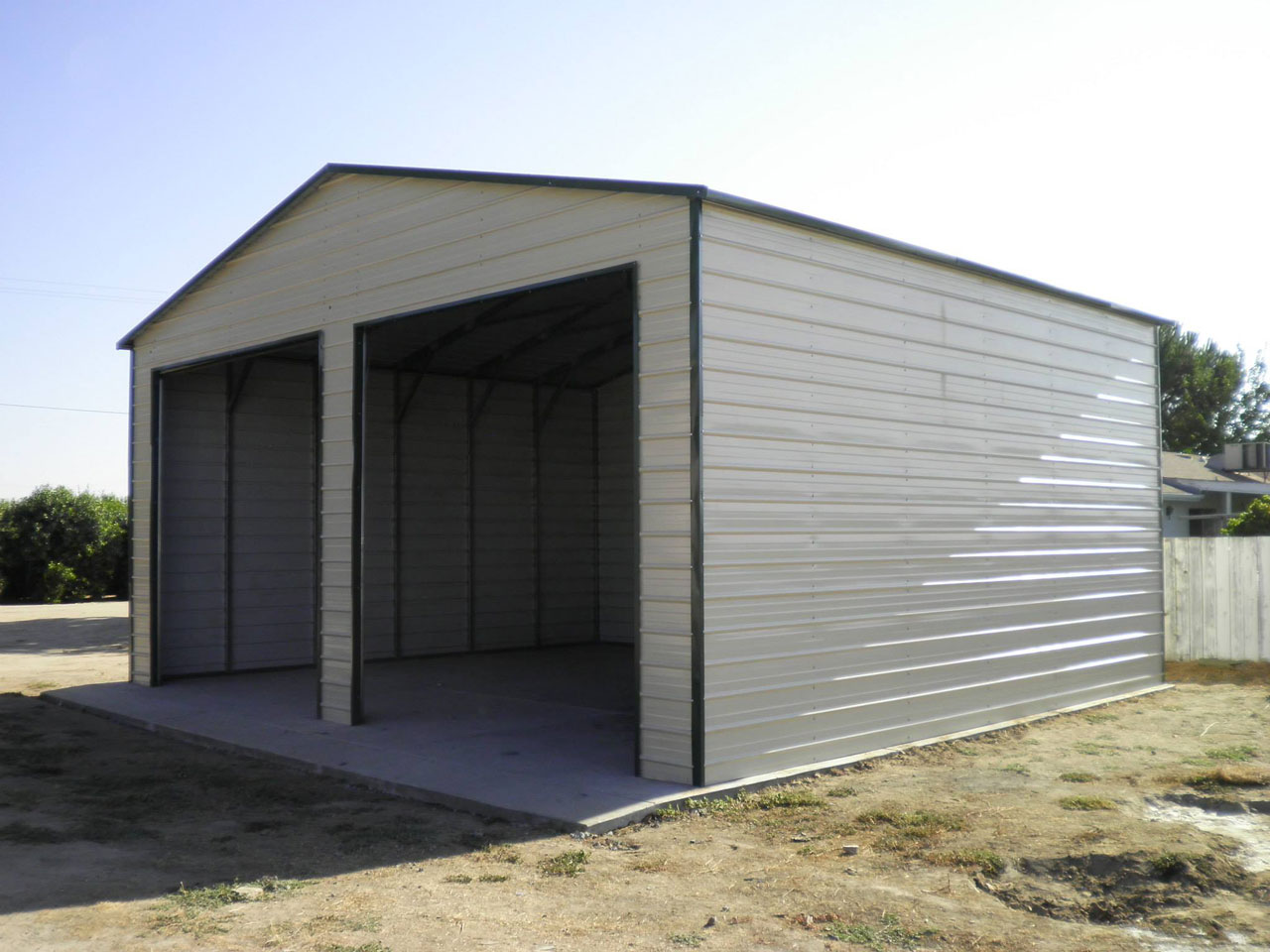 Fully enclosed two-car garage with two roll-up doors in Pebble with Evergreen trim.
Added convenience and safety
These garages are designed with weather resistant materials and they come with great durability and strength. The older wooden structures often face several environmental issues like cracking, molding, rotting, and warping etc. Most people are annoyed with termite attack issues. You will find metal garages the best solution for all these troubles. The steel buildings are easier to maintain, clean and they can serve you for years without facing any trouble. Also, the wooden units demand painting after a specific time to maintain their exterior appearance but there is no need to spend on painting when you have a steel garage at home. They will have a stunning appearance for years without forcing owners to invest more in their maintenance. The added advantage is their durability and safety so you can always stay positive about the safety of your vehicle or whatever you decide to put inside your garage.
When you already know all the benefits of custom built metal garages for your home or workplace then it is the right time to install one. Contact LodiMetalBuildings.com today and ask the professionals about costs and let them help you build the metal garage you want.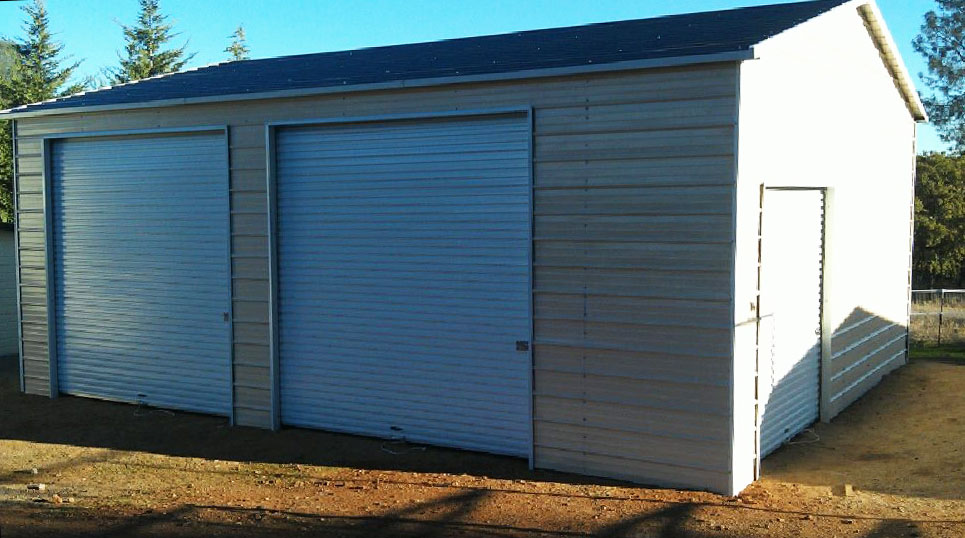 Metal garage with doors on side and extra roll-up door on end.
RV garage without roll-up door shown with a storage garage with roll-up door in Pebble with White trim. Metal buildings are designed to suit your needs and space.