Stockton: All American City!
Whether you are in North Stockton on 8 Mile Road or out by the Airport, Lodi Metal Buildings is ready to assist you with your metal building project. Our team has delivered thousands of top-notch, high quality metal buildings (and competitively priced) metal buildings throughout the area.
Unlike the larger national metal building fabricators we have been in the Stockton area for over six years at the same address. We invite you to stop by our office 7 days a week to see color samples for your metal building and we also have demo units on display so you can verify the quality of our buildings for yourself.
We have built our reputation one building at a time. We take pride in our work and value our relationships with our customers above all else. We are committed to giving each and every customer the exact metal building they are looking for and have the know-how to do it.
Stockton is a unique area with it's own Central Valley climate. We don't have to worry about snow as much as other areas we serve in the Mountains of Norther California. Here in the Central Valley wind is much more likely to be an issue than snow. With our experience these issues can be easily mitigated. We can install your structure on almost any level ground including concrete ground and asphalt.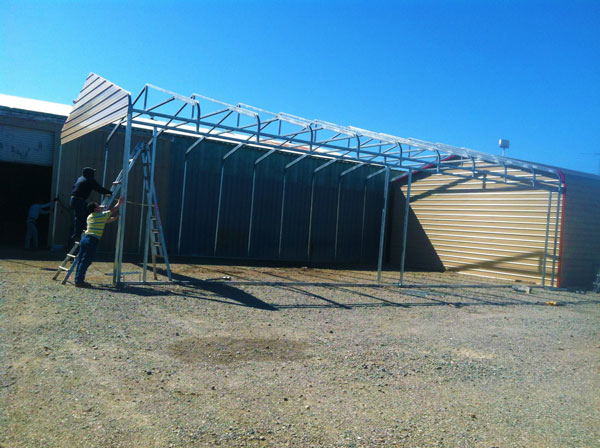 Classical Style building with with two side openings.
Building prices delivered and installed in Stockton, California
Each metal building is unique, so we will need some information from you to get you an accurate and transparent quote. Our pricing is straight forward and standardized, so the price will depend on your length, width, height, options and accessories. We've created an online price quote form to help us collect the information from you and to help you understand what information you need to gather and what options are available. Click the button below to go to the form.
Call us today to talk about your metal building. Our friendly building experts are happy to answer any questions you have. Our hours are Monday through Friday from 9 a.m. to 5 p.m. Call us at 1-877-274-1906.
PRICE YOUR METAL BUILDING NOW!
Permits for metal buildings depend on different factors in Stockton. How the land is zoned, your building department, home owners association regulations and city regulations are all can factor in to whether or not you will need a permit from the city. Our metal buildings are considered portable (they can be deconstructed and re-installed), some areas might consider it something else and request or require permits. Call us today and we can assist you in determining if you will need a permit or not for your metal building. Irregardless of your local building codes, we can guarantee to construct a metal building that meets or exceeds all environmental factors in Stockton and the Central Valley for the lifetime of the building.
Stockton has a variety of land types. From out in the country to the city, we can build on most any type of land. All our structures come with free installation. The only caveat to this is that level land is required. We do not do any type of foundation work or ground work. If your land isn't level, the structure can still be built but it will be up to you to fill in any gaps underneath the base rail and will be installed "as is" without any warranty. Please keep this in mind when planning a timeline for your project, all ground work must be complete before the date of installation.
If you are getting ready to pour a concrete slab and want to get your metal building built on a solid foundation, keep in mind that the slab perimeter must be a "footing" that is 12" wide x 12" thick, and for the center of the slab the minimum thickness 4" inches.
Serving the entire city of Stockton and surrounding communities.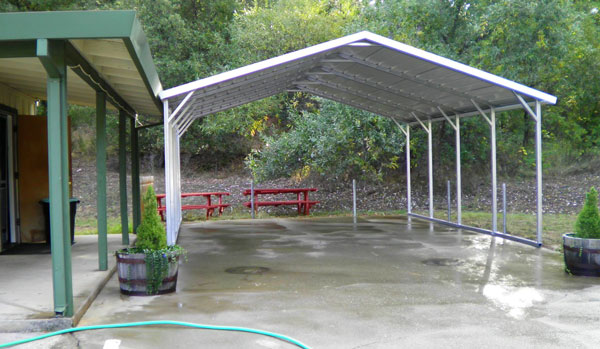 Box eve style patio/carport cover.