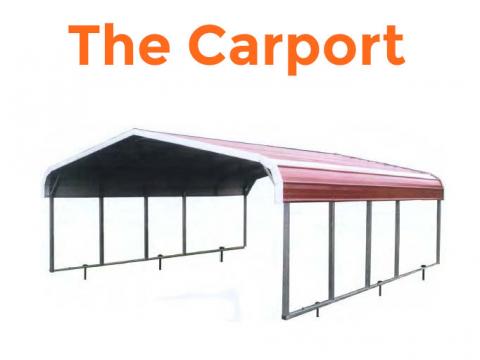 Metal carports are purchased by our customers for a variety of reasons. In fact one of our biggest sellers at Lodi Metal Buildings is the carport. People call them carports, car garages, car covers but they are all the same thing. A carport is by definition a covered structure used to provide protection to vehicles (primarily cars but also boats or other equipment) from the elements. Our customers like our carports because they offer pretection from the outside elements for a low price when compared to the damage that results from parking a car or boat or RV outside year round.
One car carport
A one car carport is suitable for one car. By increasing the length of the carport more covered space can be achieved for covering other things that would benefit from being covered. Lawn mowers, ATVs, golf carts etc. Parking a vehicle outside results in all kinds of bad things heppening but one of the biggest issue is sun damage. Sun damage comes from the sun's powerful UV rays blaring down on earth. For cars and trucks, your paint can discolor, you can lose your clear coat, dashes crack, interiror can be discolored. The list goes on. When you think about the price of a new paint job or new interior, suddenly the price for a metal carport looks very inexpensive.
Two car carport
According to Cost Helper a mid range paint job can be anywhere from between $1,000 to $3,500 with an average of $1,316 with a high-quality paint job costing between $2,400 and $7,500, with an average price of about $5,000. You heard that right--a new paint job can be expensive! Two new paint jobs will double your cost. For a fraction of that price you can build a metal carport to protect your vehicles. With a two car size carport you can easily park two vehicles comfortably. Because all of the steel carports we build are custom size you can adjust your width and length to fit your vehicles with enough space to get in and out easily and not have to worry about door dings and sliding in and out of your car everytime.
Four car carport and more
With a four car carport you should have plenty of room to park four cars. We offer custom carports so you can decide if you want to go two deep or four wide. The lesser expensive option would be to go two cars deep and build a 2x2 carport. Metal carports are less expensive than than a metal garage.This is because most carports don't need sides or ends enclosed (we can do that to if nessesary). We also can cover the carport sides and ends halfway, add gable ends for a nice finished look and more.
Consider your space
When deciding whether you you want a new carport or not you first need to consider your space. How much available space do I have? Is my ground level? Should I pour cement or not. These types of questions are the first things to consider when deciding if a metal carport is a good fit for your home, office or work place. We offer free installation on level land only so this is something major for you to consider. Beyond a four car carport we are looking at a large building, which is something that we do often as well.
There are many things to consider when choosing a carport and these are just a few. If you have any questions or would like to talk to someone we are available to help. Take a look at the photos in our gallery to see some of the many types of carport we build. If you still have questions or would like a quote please don't hesitate to contact us.
Carports can allow you to maintain your vehicle's resale value and keep it looking good like you like.